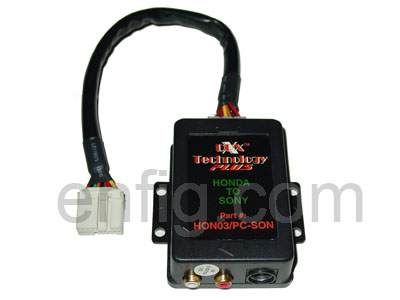 This item is no longer available.
PIE Precision Interface Electronics HON03/PC-SON

Be the first one to write a review
"Audio Input Interface or Sony CD changer (T69, T68X, T70MX & MDX-66XLP) - Acura/Honda 2003-2005"
"
Plugs into the connector in the rear of the factory radio.
Works with or without the 6 disc in-dash CD changer and does NOT disable the 6-disc changer.
If vehicle is equipped with factory remote mounted CD changer, XM tuner or CD/MP3 player, it MUST be disconnected to use the iPod interface
Vehicles that have navigation must use the pass thru on the botton of this page.
If you have factory XM , you MUST disconnect it in order to use this interface.
" "
Acura

MDX
2004-2005
RSX
2004-2005
TSX
2004-2005

Honda

Accord
2003-2005
Element
2004-2005
Odyssey
2004-2005
Pilot
2004-2005
S2000
2004-2005
"
Other items you might want to order: